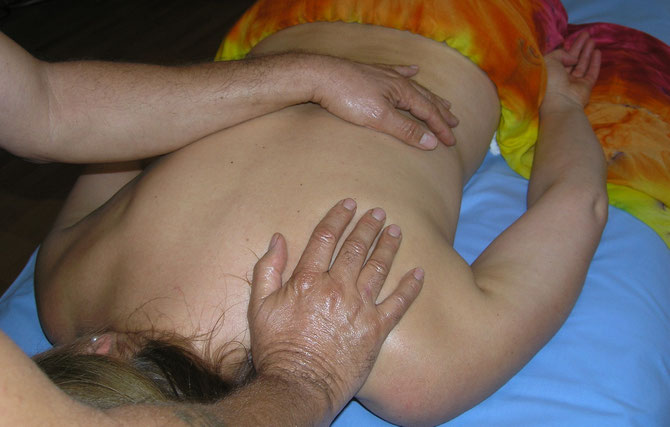 außergewöhnliche Massagen,
 besondere Massage -Ausbildungen -
auch zum Massage-Lehrer
extraordinary massages, special massage trainings -
also as a massage teacher
In erster Linie biete ich hawaiianische Körperarbeit an. Bitte informieren Sie sich auf meiner Website weiter, finden Sie heraus, was Sie erwartet! 
Wenn Sie Interesse an weiteren Massagen oder Massage-Ausbildungen haben, z.B.
Hot Stone Massage
Gesichtsmassage
Breuss Rückenmassage
Edelstein-Massage
Entsäuerungsmassage inkl. Bürstenmassage
Nehmen Sie einfach Kontakt mit mir auf. Gemeinsam werden wir eine Möglichkeit finden, sofern die gewünschte Massageart in meinem Repertoire vorhanden ist.
Die Ausbildungen können auch in Ihrem Kosmetikstudio, in einem Hotel etc.
auf Mallorca oder in Portugal stattfinden! 
Massagen nur nach Vereinbarung! 
First and foremost I offer Hawaiian bodywork. Please inform yourself further on my website, find out what awaits you!
If you are interested in further massages or massage trainings, e.g.
Hot Stone Massage
Facial massage
Breuss back massage
Gemstone massage
Deacidification massage incl. brush massage
just get in touch with me. Together we will find a possibility, provided that the desired massage type is available in my repertoire.
Trainings can also take place at your beauty studio, in a hotel etc.
on Mallorca or in Portugal / Algarve!
Massages by appointment only!
Massagen / Massages nur nach Vereinbarung / by appointment only!
Lomi Lomi Nui  – die Königin unter den Massagen / the queen of massages  
Ha'aheo Lomi Lomi –  magische, heilsame Berührung, ein Hawaiianisches, schamanisches Ritual       / magical, healing touch, a Hawaiian, shamanic ritual
weitere Massagen auf Anfrage / other massages on request
Massagetermine nach Vereinbarung! / Massage appointments by arrangement!